I've had the pleasure of supporting some wonderful families and amazingly mindful, attuned parents on their baby sleep journeys. I am so grateful for these beautiful testimonials from some of them, attesting to everything we can achieve if we work together.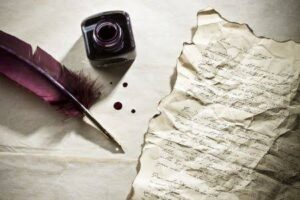 This is a weaning post of almost 5 months old from the bouncy ball with the help of Himani. I am a second time mom and my elder daughter had a habit of sleeping with the help of a bouncy ball but it was never a problem as she could sleep by rocking or patting also.
Not knowing that gym ball can be a problem, I started for my second baby also. It became an addiction for him and he wouldn't sleep without it. Slowly and gradually I have to sit for hours on it to make him relax. I couldn't go out since he will not sleep without it. I was always on the ball.
At that time my husband ask me to seek help and stop this ball. I searched Gentle Baby Sleep India and found a similar post. I contacted Himani and booked a counseling session.
It was such a big blessing to have her in this journey. In a month time we weaned my baby off the ball and without Himani it would have been impossible. My baby is very attached to me so he wouldn't sleep without me and weaning off the ball was not easy. I have to try other methods like walking, running, jumping and what not to give him the same feel. Both of us were missing the ball but it was Himani who made me strong, helped through out this process and was just a message away. She heard my crying when my whole body used to be in pain due to hard physical labor.
But after the rough period, things got better. He started sleeping for longer stretch of time, looks so happy and relaxed. All the hard work paid off. I am very confident that if it was not Himani support, I would have not weaned him off the ball and would be trapped in it.
The icing on the cake was when my elder daughter's sleep also improved with the help of Himani.
Along with the counseling I also read the book by Neha and Himani which gave me support and information while going through this journey. And will be there to go back to it and seek information based on the age group
Priyam Rastogi,
Parent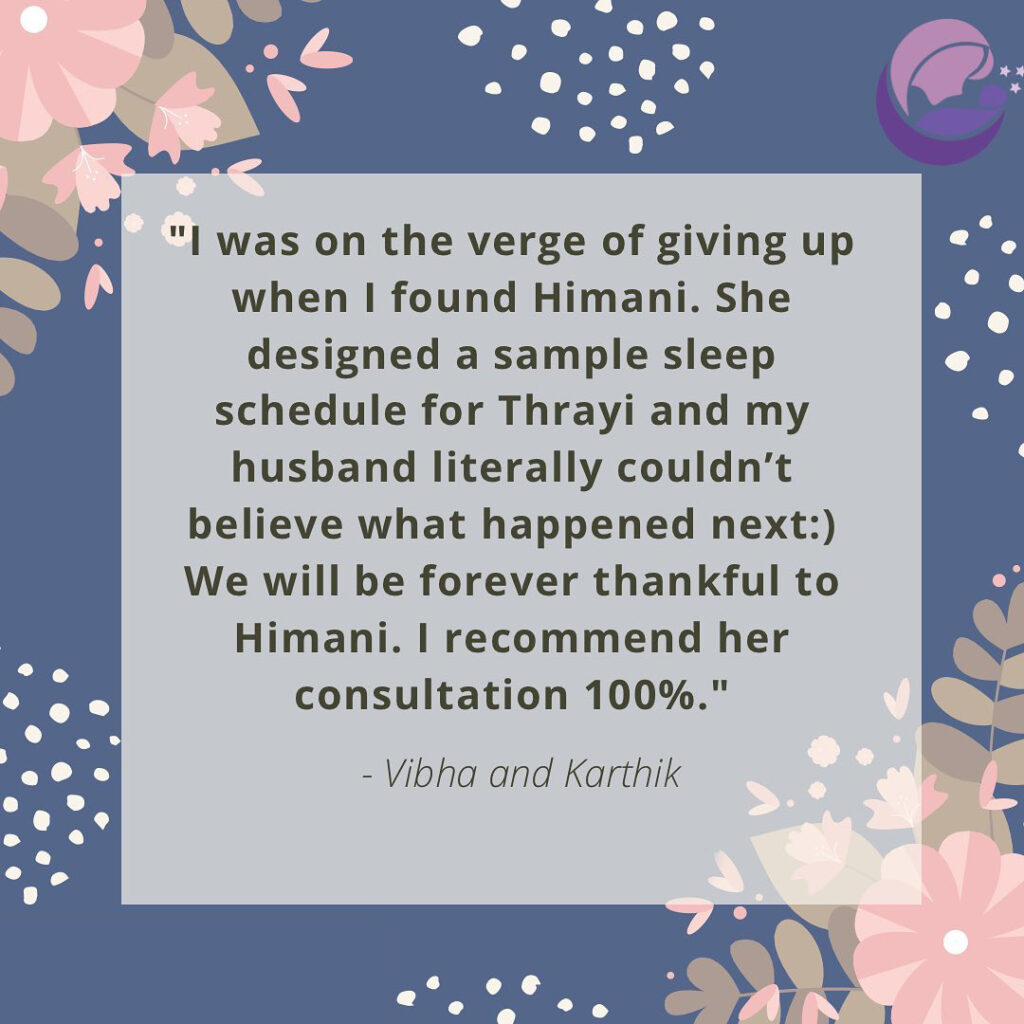 My baby Thrayi was 5 months old and her naps were erratic. I couldn't identify her sleep cues and she would fight naps EVERY SINGLE DAY. I was on the verge of giving up when I found Himani's profile in an IG live where she was talking about her new book. I instantly connected with her concept of helping babies sleep better in a gentle way. I immediately reached out and we began our 1 month consultation program.
She was so kind and it made me feel good. She made me understand where I went wrong and how I could help Thrayi bridge her naps effectively. Himani designed a sample sleep schedule for Thrayi and I made sure to follow her instructions to the T and my husband literally couldn't believe what happened next 🙂 Thrayi got solid 4-4.5 hours of nap time from 1-2 hours. This was a major win for us and we will be forever thankful to Himani. I recommend her consultation 100%. Looking forward to consult her again when it is the time for the next nap transition.
Vibha and Karthik,
Parent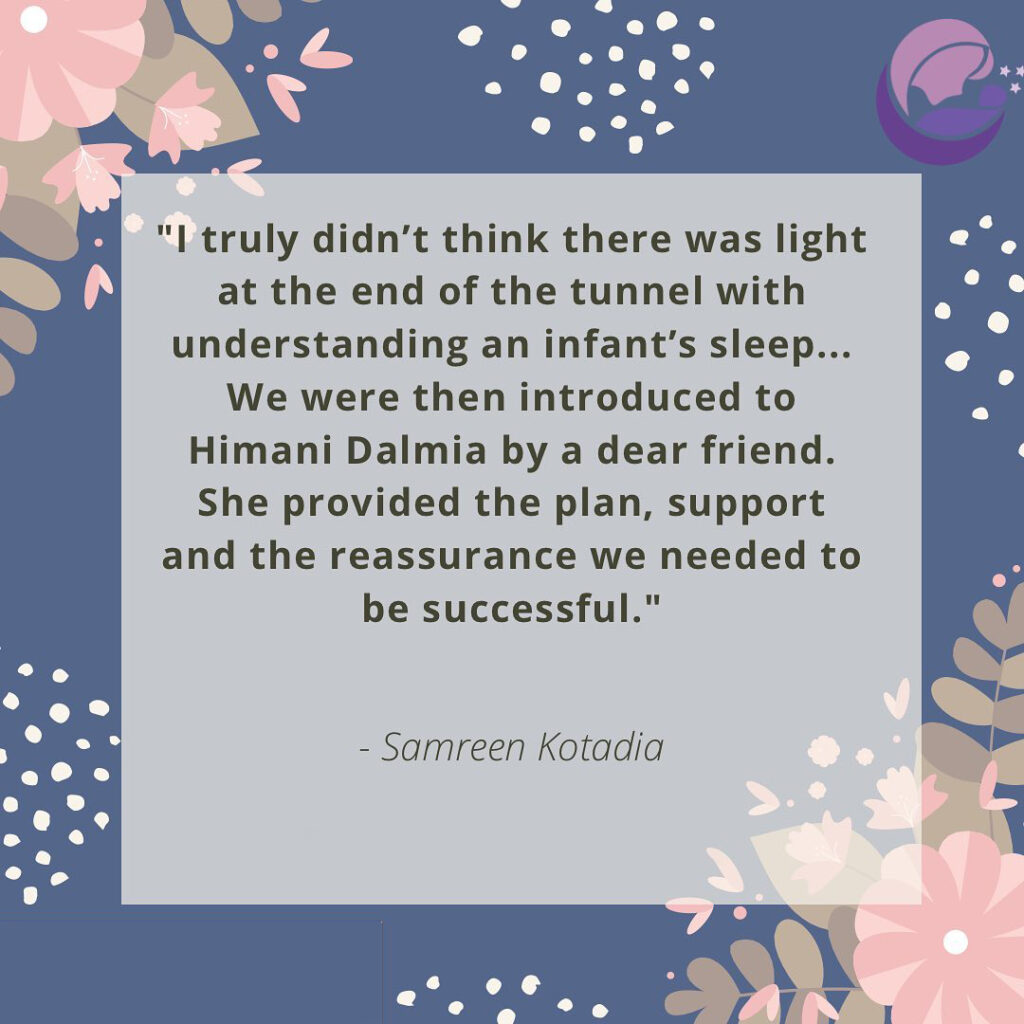 I truly didn't think there was light at the end of the tunnel with understanding an infant's sleep. My husband and I both were absolutely tapped out on sleep and just couldn't figure why our little one NEVER slept on the bed or swing, never liked to be swaddled either. We were then introduced to Himani Dalmia by a dear friend. She provided the plan, support and the reassurance we needed to be successful, and mainly the biological explanation as to CONTACT NAPPING which is what our daughter needed to complete her sleep cycles!! ..
Thank you so much, Himani, for lightening the fact that gentle parenting methods that are being used for our baby are healthy and not creating any bad habits. They are creating a safe and happy environment for her. Being mindful of awake windows, contact napping, pitch dark sleep room, bedsharing, nursing to sleep etc are the basics of baby sleep that have positive impact on baby's mental and physical growth.
I would strongly recommend to all the mommies and daddies out there, going to be soon parents as well to experience this journey with gentle baby sleep.
Samreen Kotadia,
Parent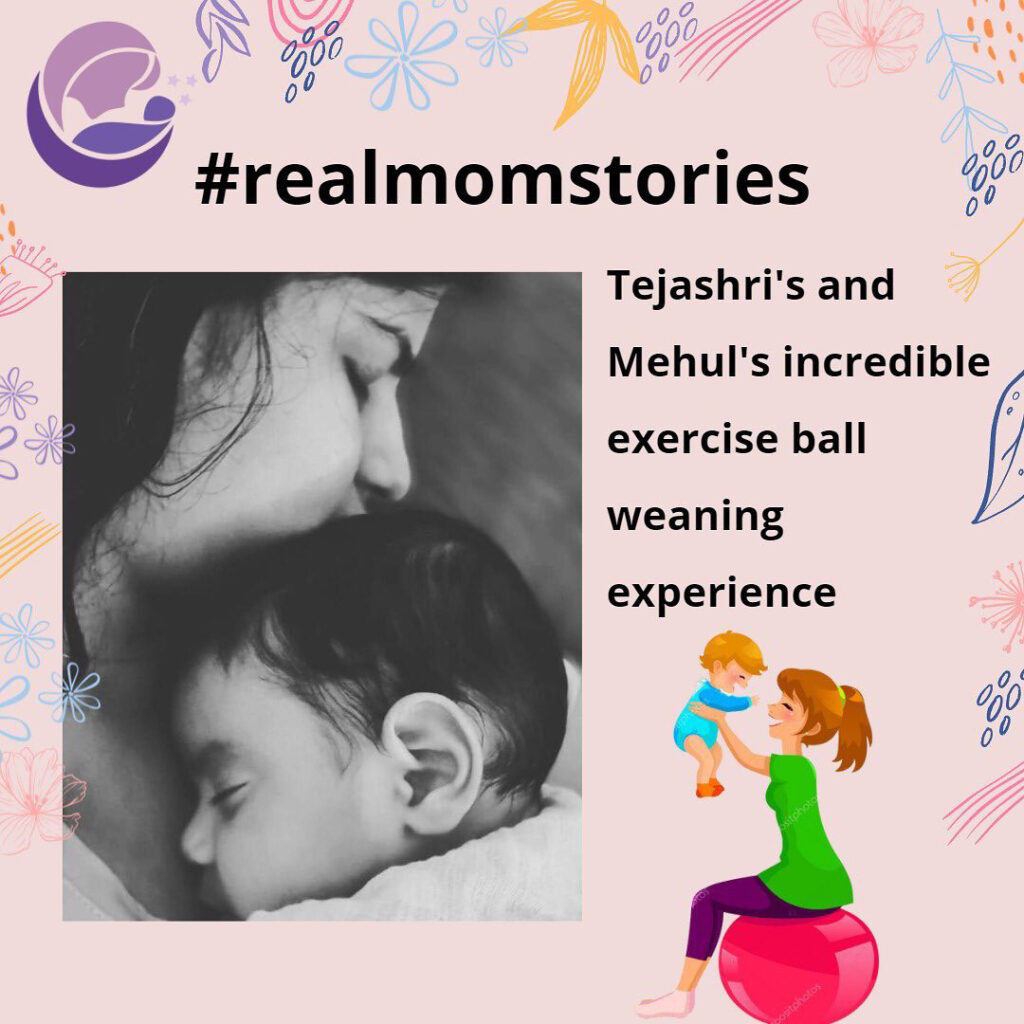 Our 4 month old relied heavily on yoga ball bouncing to go to sleep. It got so bad that up until a month ago, he needed to be bounced for 10-15 minutes. It was tiring because he needed vigorous jumping to fall asleep. My husband ended up with a hand injury and I had back pain like never before. He woke up very frequently during naps despite being held and could only be soothed on the yoga ball. He used to be fussy all day and we had very few good days. We decided to get help and found Himani's 30 day program.
Yoga ball was obviously the problem but all attempts to get rid of it in the past had failed. Himani worked with us to slowly start phasing the ball out and replace it with rocking in the arms. For what seemed like forever, our bub needed to be rocked so hard that yoga ball bouncing felt like a piece of cake in comparison. We persisted and now he needs light rocking in hand to fall asleep, the yoga ball association is completely wiped out.
Our baby's sleep quality has improved by leaps and bounds. He's a happy little monkey. We had no idea his sleep wasn't restorative when we used the yoga ball as a means to soothe him.
Understanding the sleep cues, monitoring the wake windows, holding for naps has made our life so much easier.
A simple thank you will not do justice for the help we have received from Himani. I am so grateful to have found this group (Gentle Baby Sleep India on Facebook) and to have Himani just a message away when we didn't know what to do ❤
Parents trying to wean off cradle/swing/yoga ball, just keep at it. As hard as it is in the beginning, babies are better off without these and will rest and sleep so much better without it.
Tejashri,
Parent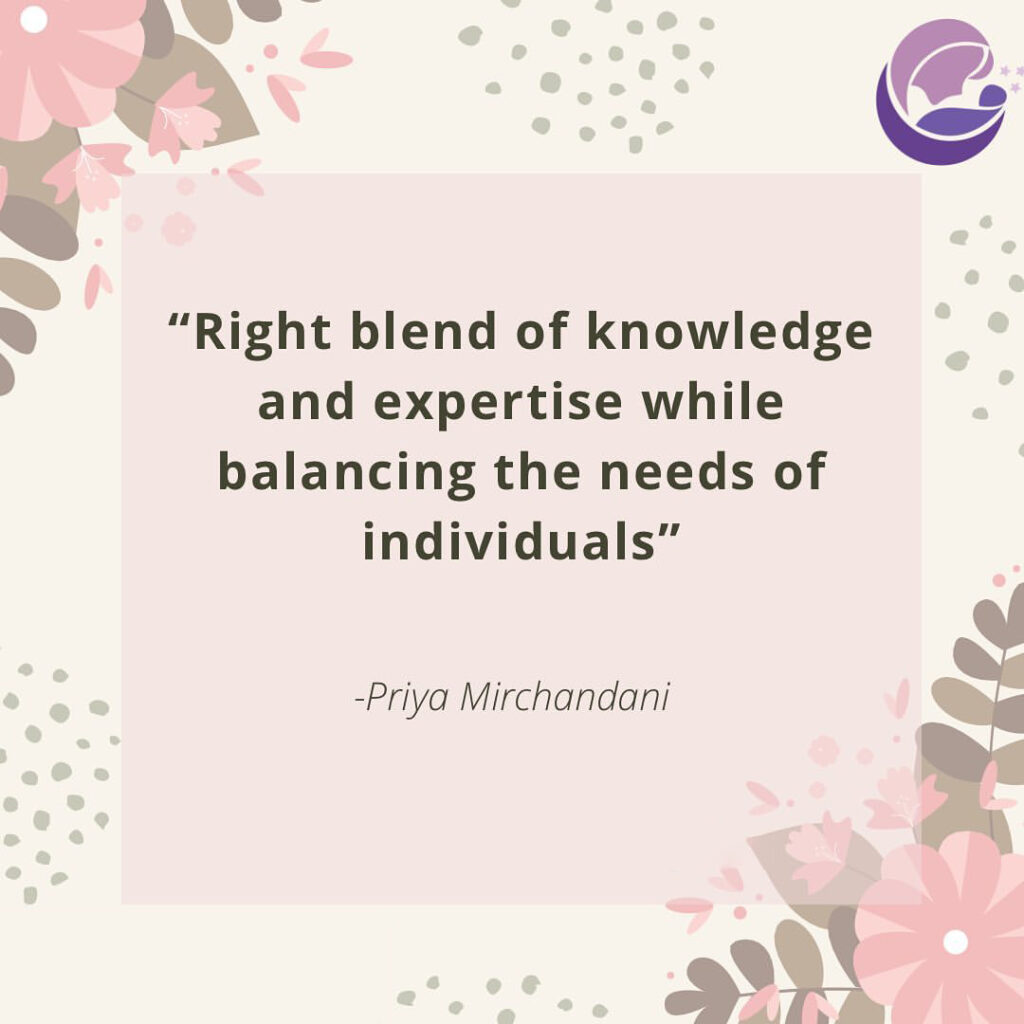 Himani's consultation session was very helpful. She brings together the right blend of knowledge and expertise while balancing the needs of the individuals who come for a consult ! Whether you have an infant or toddler she always has the right answer 😉
Priya Mirchandani,
Parent
Consulting with Himani has been a game changer in not just Kyna's sleep pattern but also her overall behaviour. I had easily tagged Kyna as a hyperactive child, not realising that the child may not be getting the right quantity and quality of sleep. After consulting with Himani, I understood so much about how baby sleep works and, within just a few days of implementing the designed sleep routine, Kyna started sleeping much better, the night wakings reduced and she started being so much calmer in the day. I cannot thank Himani enough for her help and spontaneity
Nitika Nayyar,
Parent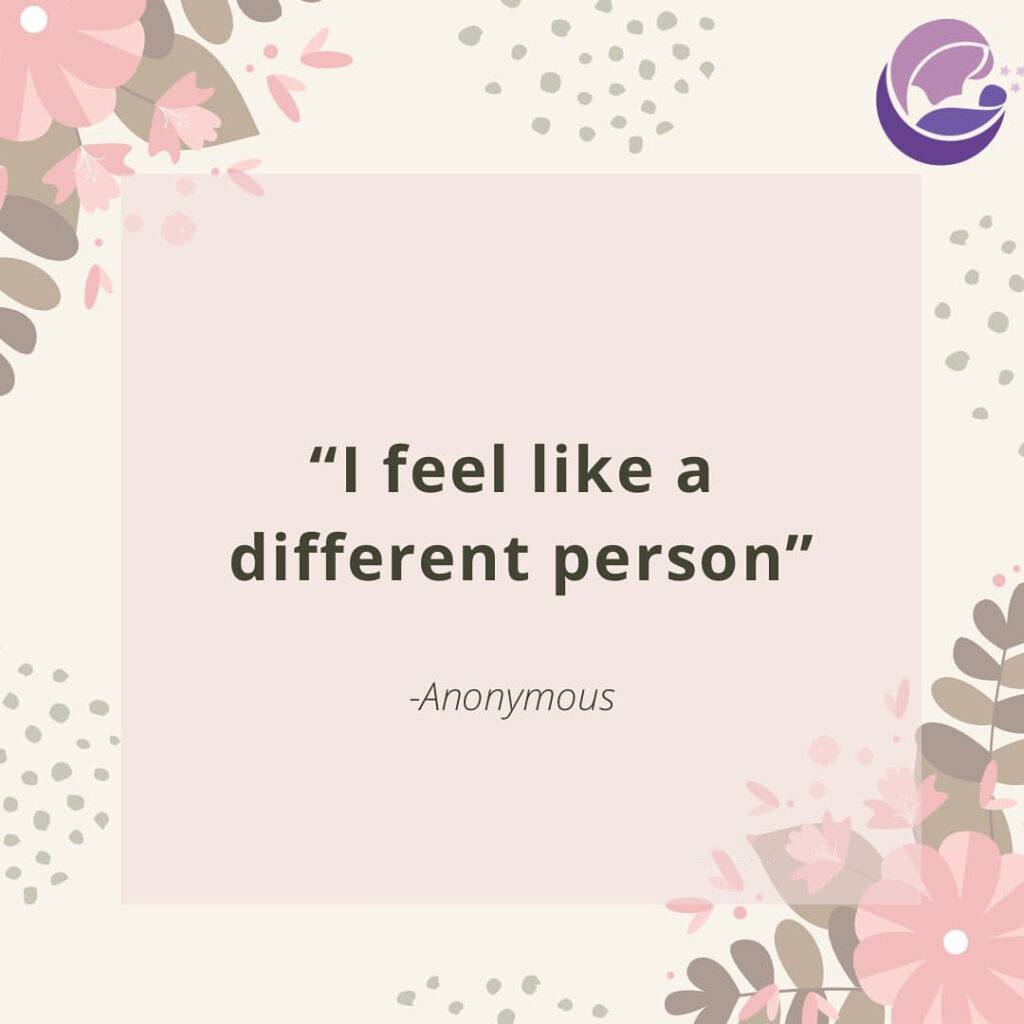 Me and my husband are very grateful for your advice and guidance, it has improved my baby's sleep quite a bit. I am person of less words, but I feel like a different person since the day we took your session, my exhaustion and sleepless nights have reduced and my baby is always so fresh and playful because he is getting the sleep he needed, so thank you very much
Anonymous,
Parent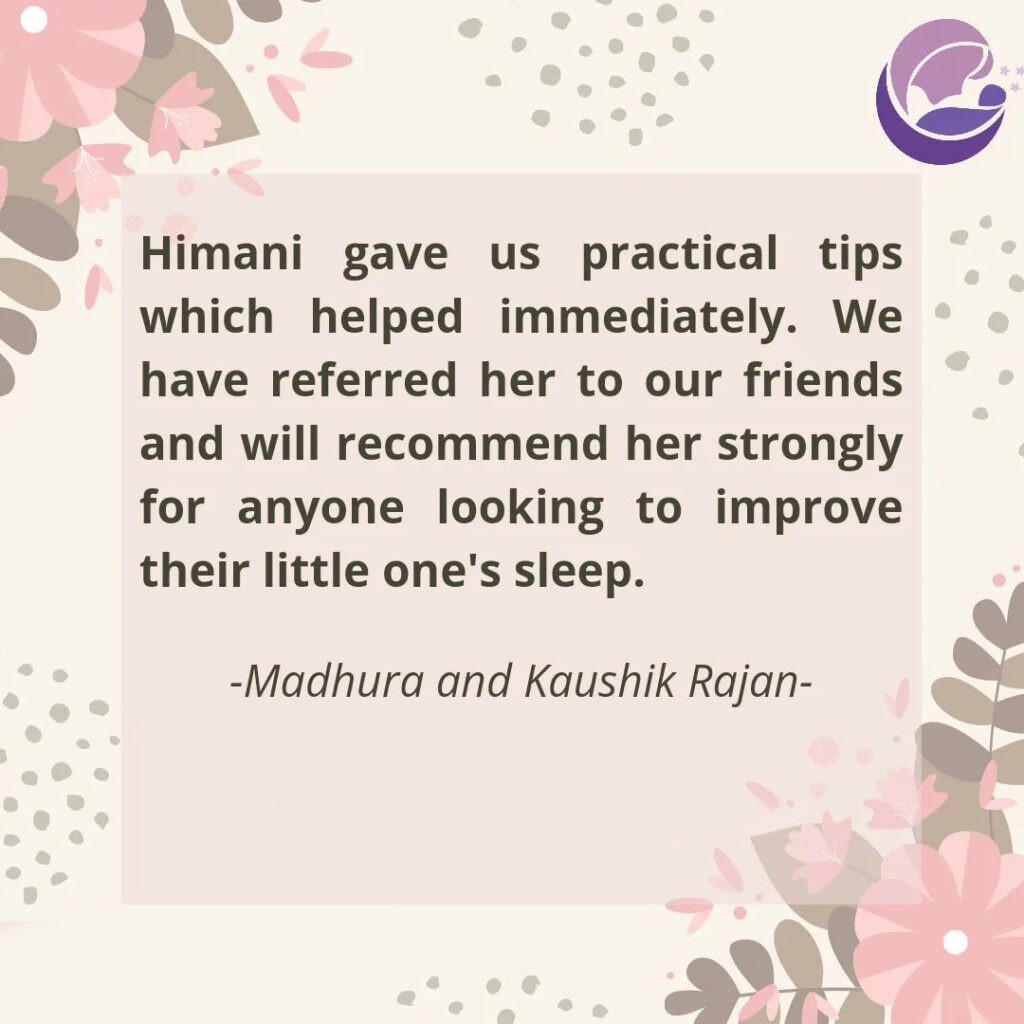 Himani's help and intervention served us extremely well in transitioning Roohan from 3 naps to 2 naps. Her constant support over Whatsapp was a good reminder of how difficult this is and why it's important to support the child through this period, rather than adopting sleep training. She also gave us practical tips which helped immediately. We have referred her to our friends and will recommend her strongly for anyone looking to improve their little one's sleep.
Madhura and Kaushik Rajan,
Parent
Himani was referred to me by my paediatrician at a time when I was at my wits' end and desperately looking for some help because my child was having trouble sleeping. Once we got into it, she was always available to offer help, especially the SOS kind and, though I didn't manage to execute everything she said exactly, which meant it took a little more time to get there, having someone to support me through that time was invaluable. The best thing about her is she offers support without judgment and makes you feel very comfortable asking questions and, as a result, I learned a lot from her, things I had no idea about, like co-sleeping, weaning, nap schedules and such.
Mihika Harnal,
Parent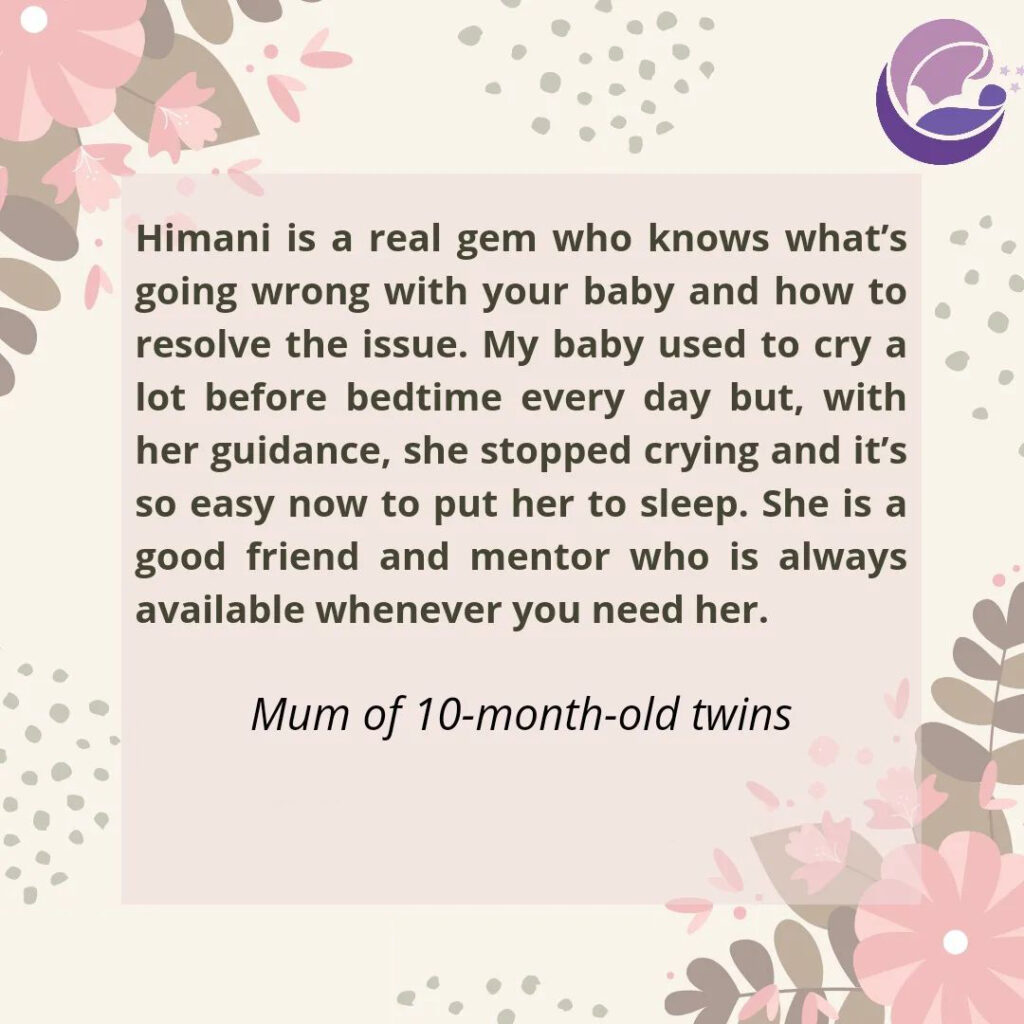 Before Himani's one month program I used to follow wake-up windows but still the sleep of my babies was very disturbed. I would say Himani is a real gem who knows what's going wrong with your baby and how to resolve the issue. She was always available and quickly responds to my messages, whenever I don't know how to handle the situation. My baby used to cry a lot before bedtime every day but, with her guidance, she stopped crying and it's so easy now to put her to sleep. She is a good friend and mentor who is always available whenever you need her. I would highly recommend her programs as she will understand your concerns and provide advice that will be useful for a very long period.
Mum of 10-month-old twins